No Need to Haggle!
We don't feel that our customers should have to work to get our best price!
Welcome to
Preston Live Market Pricing
At Preston, our cutting edge technology,
Live Market Pricing
, ensures our customers the most competitive prices on all of our pre-owned vehicles, all of the time.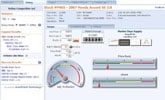 Live Market Pricing
polls nearly every used car website listing, every single hour to ensure our customers are getting the most real-time, aggressive prices. We are able to see how our competition is pricing their vehicles to ensure that you are getting the best deal. Talk about peace of mind!
As if that's not enough peace of mind, rest assured that Preston Auto Mall does not play the price game. We do not artificially inflate the price of our used cars to get in a negotiation battle. We don't feel as though our customers should have to haggle to get our best price! That's why we provide our very best price right from the start!
How do we provide such low pricing? Believe it or not, it's not magic! Being a local, family owned dealership who does little to no advertising allows us to keep our expenses extremely low. We believe in giving our customers the best purchase experience they've ever had and heavily rely on referral and repeat business!
Over 90% of our customers shop online before ever stepping a foot inside our showroom. We understand our customers and know that you are a savvy, intelligent consumer. We look forward to saving you time and money through our
Live Market Pricing
and ultimately providing you with the best purchase experience you've ever had!